The following are short bios of the participants of the immersive Pedagogy Conference.
Dr. Elena Foulis
Dr. Elena Foulis is a student-centered educator with B.A and M.A degrees in Spanish and Latin American Literature and a Ph.D. in Comparative Literature and Cultural Studies. She is committed to engaged scholarship and to expanding the boundaries of traditional publication and pedagogical approaches. She is interested in reaching non-academic and academic audiences through her writing, presentations and public humanities projects. For example, her e-book, Latin@ Stories Across Ohio, has given her students key resources for understanding our Latina/o community's rich heritage, and the complexity and diversity, and sometimes, structural and systematic inequalities that this community faces. She is also host and producer for the Ohio Habla podcast.
Jordan Tynes
Jordan Tynes, Director of Academic Fabrication and Digital Design and Visiting Lecturer in Computer Science at Wellesley College, supports interdisciplinary methodologies for many aspects of the higher education experience. Using emergent technology and workflows, Jordan strives to enable previously unexplored ways of teaching, learning, conducting research, and communicating scholarly efforts. Jordan currently teaches a course that asks students to develop Virtual/Mixed/Augmented Reality software. He has presented on digitizing cultural heritage, creating VR experiences, and innovative teaching strategies, as well as contributed to recent articles on photogrammetry processes, digital archaeology, and representing museum objects in AR headsets.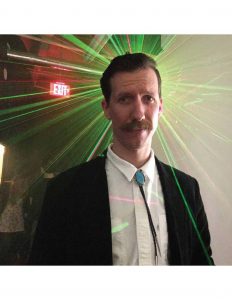 Kat Hayes
Kat Hayes will be attending with Sam Porter and Colin McFadden (their absent third) from the University of Minnesota. She is faculty in Anthropology and our new Heritage Studies and Public History program. collectively we've got two main projects we applied for this on; Colin and Sam created an XR game called Riddle Mia This in collaboration with the Mpls Institute of Art. They all worked on a VR app called Virtual MISLS, which is a virtual museum based on a photogrammetry model inside an abandoned WWII military intelligence language school mainly teaching Japanese American soldiers recruited from incarceration camps. For this latter project, the VR is an effective teaching tool primarily because it allows access to spaces that are not physically accessible, but the novelty factor is a big draw also (variably, depending on the audience).
Samantha Porter
Samantha Porter is a PhD candidate in Anthropology and Digital Preservation Specialist with Liberal Arts Technologies and Innovation Services at the University of Minnesota, Twin Cites. She manages the Advanced Imaging Service for Objects and Spaces, which makes technologies including high resolution digital imaging 3D scanning, 3D printing, and virtual and augmented reality accessible to all members of the University community. Her research interests include the integration of 3D models into processes of site and artifact documentation and knowledge dissemination and the development of portable and low-cost imaging solutions in cultural heritage.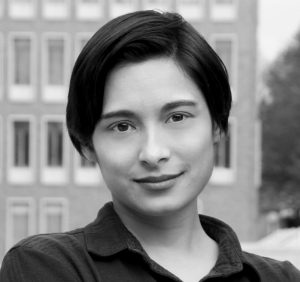 DB Bauer
DB Bauer is a PhD student in Women's Studies, a graduate assistant with the Design Cultures and Creativity Honors Program, and a Digital Studies in the Arts and Humanities graduate certificate recipient at the University of Maryland, College Park. DB has a background in technical media production and has worked for PBS, public radio, and other freelance outlets. DB's scholarly work links critical or scholarly making with 3D media and the processes used to create them, like 3D-printing and scanning, to explore larger questions relating to embodiment, affect, power, and world-making
Julia Troche
Julia Troche (Ph.D. Egyptology & Assyriology; Assistant Professor of History, Missouri State University) attends the symposium, representing the joint work of her and Eve Weston (CEO Exelauno), who together created The Spirit of Egypt.  Both were brought together by a common desire to create accessible, innovative, and educational XR experiences. Eve was drawn to the experiential power of XR, specifically the impact of presence on memory and its ability to elicit empathy. Julia is primarily driven by the pedagogical benefits of XR, especially potent for students of varied socio-economic backgrounds. Together we hope to show how The Spirit of Egypt XR project can be understood as a forum through which critical socio-political dialogues are fostered.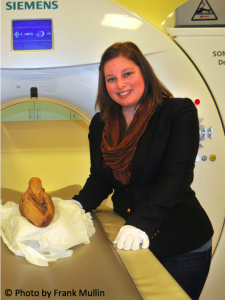 Coral Salomón
Coral is Penn Libraries Digital Strategies Librarian. Her role is to develop programs for acquiring and preserving complex and aesthetically rich digital content. She is exploring preservation issues surrounding born-digital art and art resources, taking into account the fragility and variability of these system-dependent works. Coral is originally from Mayagüez, Puerto Rico. She previously worked at the Frick Collection as a NYARC Web Archiving Fellow and at the Center for Puerto Rican Studies at Hunter College where she helped create the sole digital archive dedicated to the Puerto Rican diaspora in the US.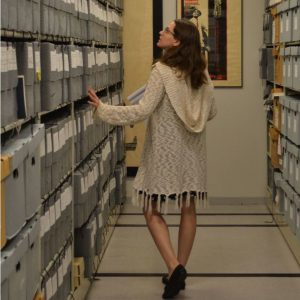 Meaghan Moody
Meaghan is the Teaching & Learning Librarian at the University of Pennsylvania Libraries. She supports instruction and programming around a range of pedagogies and technologies, including 3D modeling, scanning, and printing; AR/VR; and other makerspace technologies. She is co-founder of the Education Commons TinkerLab, a feminist makerspace, at the Penn Libraries. Meaghan holds an MLIS from Rutgers School of Communication and Information and a BA in English Language and Literature from the University of Kansas. Her research interests include critical librarianship, inclusive learning spaces, accessibility, community engagement, and the digital humanities.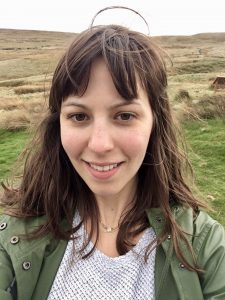 Lorena Gauthereau
Lorena Gauthereau is the CLIR-Mellon Postdoctoral Fellow at the University of Houston's Recovering the US Hispanic Literary Heritage (Recovery) where she works on data curation and is helping to create the first digital humanities center focused on US Latinx studies. She received her PhD from Rice University in English literature. Her research interests include Chicana/o literature, Chicana feminism, affect theory, class analysis, decolonial theory, and the digital humanities.
Andy Anderson
Andy Anderson is from Amherst College in Massachusetts, attending with their colleague @Jaya Kannan and working with one of their Spanish faculty, Sony Corañez Bolton. They work with faculty and students to support their use of software applications for mathematical, statistical, and spatial analysis, including Web development, computer programming, and high-performance computing. They teach short courses on these technologies and occasionally are involved in semester courses from project advice to co-teaching, and I provide one-on-one assistance. They have a Ph.D. in physics, and while my focus is on STEM disciplines, because of the widespread applicability of GIS and 3D modeling they often work with faculty and students in history, cultural studies, and digital humanities. Recently they been spending more time on projects involving virtual reality systems, and they looking forward to learning more about the possibilities.
Katie Chapman
Katie Chapman is from Indiana University, Bloomington where they finishing a PhD in Musicology. They currently work for our Cyberinfrastructure for Digital Humanities and Creative Activities group. They work primarily with photogrammetry, 3D online exhibits, and related areas. We work with students and faculty on individual projects and run a DH workshop series. Their current major projects involve XR components for a Bicentennial traveling exhibit and digitizing realia from one of our archives. They are planning on writing a syllabus for a digital musicology course which would incorporate XR experiences and improve students' access to and understanding of digital tools. This would include digitized musical instruments, digital online collections, and VR experiences (through 360 photos, etc) of major musical institutions and cities we discuss in music history contexts. These would ideally incorporate both visual and auditory components so that students can hear music composed for/performed in a space while experiencing it in VR.
Juan Llamas-Rodriguez
Juan Llamas-Rodriguez comes from the University of Texas at Dallas, where the colleagues in my academic unit (School of Arts, Technology, and Emerging Communication) work with and teach VR, AR, and 3D animation for commercial uses. Their research focuses on media, borders, migration, and language. Currently they are finishing a book on the media lives of border tunnels and writing an article on the exhibition space design of VR projects about migration.
Chris J. Young
Chris J. Young is Digital Humanities Postdoctoral Fellow in the Jackman Humanities Institute at the University of Toronto, Canada. His research examines the cultural production of media through ethnographic fieldwork of contemporary cultural workers and bibliographical analyses of media artifacts. His current project focuses on real-time 3D production platforms and how they shape technical standards and labour practices across disparate industries.
Jessica Linker
Jessica Linker received her PhD in history from the University of Connecticut in 2017. She is the current CLIR Humanities and Digital Scholarship Postdoctoral Fellow at Bryn Mawr College, where she directs the History of Women in Science Project, a collaborative digital project that reconstructs historical spaces women occupied using 3D technology. [[Her research on the history of early American women scientists has received awards from various institutions, including American Philosophical Society, New York Public Library, the McNeil Center for Early American Studies, and the Library Company of Philadelphia.]] She has always wanted to make things using 3D/VR since she started dabbling in OpenGL more than 15 years ago at Wellesley College.
Alex Wermer-Colan
Alex Wermer-Colan is a CLIR postdoctoral fellow at Temple University's Digital Scholarship Center. He earned his Ph.D. in English from The Graduate Center, CUNY, where he taught at Hunter College and Guttman Community College while working as a Writing Across the Curriculum Fellow at Medgar Ever's College. His research and teaching are invested in rethinking the politics of literature and art through a mixed-methods approach that leverages computational methods to decolonize the archive. He co-directs The Virtual Blockson, a recreation in virtual reality of Temple University's Charles L. Blockson Afro-American Collection for the purposes of teaching highschool students primary source literacy.
Emma Slayton
Emma Slayton currently serves as the Data Curation, Visualization, and GIS Specialist at Carnegie Mellon University Libraries. She has earned a PhD from Leiden University and a MPhil from the University of Oxford, both of which focused on visualizing prehistoric movement. As an archaeologist, she focused on using computer modeling to hypothesize the location of early canoe routes in the Caribbean. She has experience working with GIS and other data visualization tools. This knowledge aids her work at CMU, where she plans workshops and other content to promote the use of various data visualization methods, tools, and techniques
Eric Kaltman
Eric Kaltman is the CLIR Data Curation Fellow for the Sciences at Carnegie Mellon Libraries working on projects related to Emulation as a Service (EaaS), research reproducibility, and the history of computing and computer games.
Neil Weijer
Neil Weijer (way-er) is the CLIR Postdoctoral Curatorial Fellow in Premodern and Early Modern Studies at the Johns Hopkins University. His research and teaching focuses on the history of early books and manuscripts both in their physical form and in two digital initiatives at JHU, the Archaeology of Reading in Early Modern Europe and the newly-endowed Virginia Fox Stern Center for the History of the Book in the Renaissance. He has published on the intersections between legendary history, forgery, and scholarly practice in early book collections. Neil received his PhD in medieval history from Johns Hopkins in 2016.